Adoption Application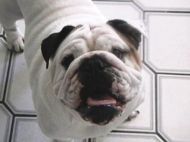 The first step to adopting a bulldog is filling out an application.  Below you will find a link to our application.  This application will stay on file in the data-base for approximately 6 months.
Please remember adopting a bulldog is a major responsibility. We are very particular in the homes these dogs are placed in. Not ever home is good for every dog. Please have patience while we try to find the right bulldog for you. Sometimes this takes time.
Click here to submit an Adoption Application. Read the disclaimer and click on 'I Agree'. You will then be taken to the online adoption form.