Available Bulldogs
Please fill out an application, then contact us including the state you live in, your full name, and a telephone number.
A word about adoption fees:
The bulldog you adopt from us will be spayed or neutered, up-to-date on shots, will have been screened for parasites, and have gotten bloodwork to determine if they have any medical issues. They may have required thousands of dollars worth of surgery. Whether your Bully cost us $5,000, or $50 your adoption fee will be the same—based on the dog's age.
We rely on private donations and adoption fees to give our Bulldogs the care they need. You can expect an adoption fee of $300-$650. If you adopt a very old, or special needs dog, there is no fee. Adoption fees are not negotiable.
For more information about adopting a bulldog please call 631-689-6245 or email: bulldogrescue1@aol.com. You will need to fill out an application and be patient. Sometimes it takes a little while to find the dog that is just right for you.
Please note: NOT ALL DOGS AVAILABLE ARE LISTED ON THIS PAGE.
---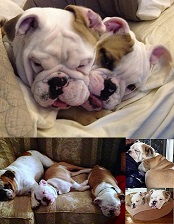 Baby Eric and Baby Rob have a story of survival. They arrived on a plane from Columbia. The short version is that they came down with Parvo, were surrendered to us, and were hospitalized for several weeks.They fought for their lives and won! They are now 6 months old and ready to go to a forever family. They are great with dogs cats and people. They must go together, to a home with a fenced yard, someone home most of the time. They will be too much for toddlers but older kids ok. Please contact us with a phone #, and what state you are in. Please be sure to have an app in before you contact us.There is an adoption fee with our dogs.
__________________________________________________________________________________________________
x